Graveyard:
Kilcavan
Grid reference: I 3
GPS: -6.217059222/ 52.70710067
Name: Margaret Murray
Address: none
Date of death: 14/01/1793
Age: 80
Headstone stone maker: Kenny Ballylough.
Headstone dimenions: H 142cm, W 85cm, T 7cm
Type of stone used: Sandstone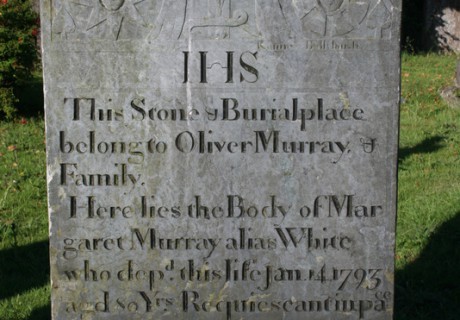 INSCRIPTION:
IHS.
This stone & burial place belong to Oliver Murray & family.
Here lies the body of Margaret Murray alias White who dept. this life Jan. 14 1793 agd. 80 yrs.
Requires cantinpa es.
Mary Murray died 1st Jan. 1991 aged 88 yrs. and her husband Oliver [ O.J. ] Murray died 15th Dec. 1999 aged 88 yrs.