MEMBERSHIP OF THE NORTH WEXFORD HISTORICAL SOCIETY:
You are most welcome to join our society for a modest membership fee. Both annual single membership (E15) and family memberships (E25) are available.
Membership is essential as it gives access to talks and summer tours and supports to preserve our valuable local history.
Please ask any member or the committee about joining or renewing your membership of the North Wexford Historical Society who are happy to help.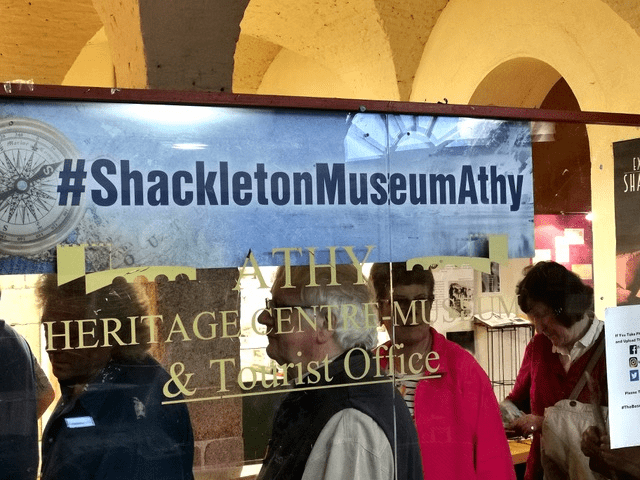 UPCOMING EVENTS: 2020 Schedule
**NWHS TALKS & EVENTS ARE CANCELLED UNTIL FURTHER NOTICE**   please note our talks and trips/events are cancelled until further notice due to the coronovirus. We are following the advice and recommendation of the Government and HSE. We shall reschedule talks and trips as soon as possible and let you know by website, email, face book and text message. Please check back for updates on talks and events. Thankyou for your understanding. Please stay safe and mind yourself.
NWHS Committee. 12/03/2020
Thursday March 26th 2020 Talk: "Parnell The Industrialist" by Pat Power at 7pm in Foyer of the Gorey Civic Library Centre. All are welcome. This talk will focus on how Charles Stewart Parnell (1846-1891) of Avondale County Wicklow created industrial activity in the South Wicklow and North Wexford areas sustaining jobs and families. It will be a lesser known side of the man and different perspective of the leader of Irish Parliamentary Party from 1882 to 1891. **CANCELLED AND SHALL BE RESCHEDULED**
Please note memberships are now overdue for 2020. You can pay for your membership at the next talk or contact any member of the committee; this would be greatly appreciated.
April Talk: "Gorey 400" by Willie Willoughby at 7pm in Foyer of the Gorey Library Civic Centre. All welcome. Date will be confirmed.
2020 Tours: We are currently working on our program for the summer north wexford historical  day tours. Please note you must be a paid up member to join use on our summer tours. **CANCELLED FOR THE MOMENT DUE TO CORONAVIRUS** .
GOREY 400: In 2019; Gorey have commemorated the 400th anniversary of the signing of the town charter which gave formal recognition to the town. The town charter was signed in October 1619 under the auspices of Bishop Thomas Ram who then renamed the town as Newborough; however this new town name never became popular or into general use.
Gorey Municipal Council and NWHS have marked the year 2019 with celebratory events through the themes of reflection, renewal and re-invention.
NWHS are pleased to be involved and supporting in association with The Byrne Perry Summer School and Gorey Municipal District – a book titled "Gorey 400 – the History of Gorey and North Wexford". The book will be published in early 2020. We hope that the book will be a timely and readable history of the town and wider region with different areas of interest which is sure to appeal to a wide audience. Please check our website and facebook page for further updates.
PAST EVENTS:
2020
30/01/2020: Talk: The Bog Bodies by Isabella Mulhall of The National Museum, Foyer, Civic Centre Gorey.
27/02/2020: Talk: "Wexford Orange Men" by Quintin Dougan, Foyer, Civic Centre Gorey.
2019
31/01/2019: Talk: Influence of Geography & Geology on Early Ireland by Dr. Robert Meehan, Ashdown Hotel.
31/01/2019: Gorey 400 Exhibition and Official Opening; Celebration of Gorey Community; Ashdown Hotel, Gorey.
28/02/2019: Talk: The Sinking of the M.V. Leinster by Dorothy Brophy, Gorey Public Library.
28/03/2019: Talk: The Irish Parlimentarians since the foundation of the State by Anthony White, Gorey Public Library.
25/04/2019: Talk: The History of Christchurch Gorey by Willie Willoughby; Christchurch, Gorey.
25/05/2019: Tour: The Dublin Tour EPIC Museum and The Jeanie Johnston Tall Ship led by Gerard Fleming.
29/06/2019: Tour: The Athy Tour Shackleton Museum & Coal Mining Museum Castlecomer led by Richard & Liz Millar.
27/07/2019: Tour: Kilruddery House & Gardens and visit to Dalkey Castle led by Pauline Shortall.
17/08/2019: Tour: Dunbrody Abbey & St. Mullins led by John Nangle.
29/08/2019: AGM: North Wexford Historical Society Annual General Meeting.
07/09/2019: Tour: Overnight Tour to Northern Ireland – Armagh, Derry, Belfast, Omagh taking in Historical Sites.
26/09/2019: Talk: The Archaeology of Gorey Bypass by Barry Leacy, Gorey Civic Library.
17/10/2019: Talk: The Versailles Treaty by Mark Perry, Gorey Methodist Church Hall, Market Square.
31/10/2019: Talk: The Esmonde Family of Ballynastragh by John Nangle, Gorey Civic Library.
15/11/2019: Event: North Wexford History and Heritage Festival Weekend 15th to 17th November, Gorey.
21/11/2019: Talk: General Bulfin of World War 1 his life story by John Powell, Gorey Methodist Church.
5/12/2019: Talk: History of The Border between the Republic of Ireland and Northern Ireland by Darach McDonald in association with Gorey Library.
13/12/2019: NWHS Annual Christmas Party
2018
11/01/2018: Talk: Enniscorthy Castle by Mary Brickley
22/02/2018: Talk: The Market House by Willie Willoughby
25/03/2018: Talk: Willie Redmond by Jarlath Glynn
26/04/2018: Talk: The Russian Revolution by Judith Devlin
23/05/2018: Tour: Dublin Museum & Dail Eireann led by Willie Willoughby
23/06/2018: Tour: Trinity College & Grand Lodge of Ireland led by Michael Reddy
21/08/2018: Tour: St. Canice's Cathedral and Shankill Castle led by John Nangle
01/09/2018: Tour: 2 day tour to Limerick led by Peter O'Connor
28/09/2018: Talk: The Influenza Epidemic by Dr. Ida Milne
25/10/2018: Talk: The Archaeology of Ferns by Barry Leacy
29/11/2018: Talk: First World War Irish Soldiers – Wills and Letter by Hugh McShane
06/12/2018: Talk: The Sufragettes by Mary McAuliffe; arranged by Gorey Library
07/12/2018: NWHS Annual Christmas Party
2017
26/01/2017: Talk: Michael Davitt by Dr. Carla King
23/02/2017: Talk: History of the GAA by Dr. Paul Rouse
23/03/2017: Talk: Augustus Welby Northmore Pugin by Willie Willoughby
04/05/2017: Talk: The Congo by Siobhan Pierce
25/05/2017: Tour: Heritage Park and Our Lady's Island led by Willie Willoughby
01/07/2017: Tour: St. Patrick's Cathedral and Dublin Castle led by Michael Considine
29/07/2017: Tour: Avondale, Glenmalure & Altidore Castle led by Pauline Shortall
12/08/2017: Tour: Wexford Town and Johnstown Castle led by Philip Jones
09/09/2017: Tour: 2 day tour to Dungarvan and Cork led by Peter O'Connor
16/09/2017: Talk: Graveyard Seminar led by John Nangle
28/09/2017: Talk: Min Ryan by Risteard Mulcahy
19/10/2017: Talk: Vinegar Hill Archaeological Findings by Byron Jones
28/11/2017: Talk: The Vikings by Linda Doran
07/12/2017: Talk: The Reformation by Canon Mark Hayden
2016
07/01/2016: Talk: 1916 National Perspective by Dr. Brian Hughes
31/03/2016: Talk: 1916 Local Perspective by Rita Edwards
05/05/2016: Talk: Women of 1916 by Dr. Eve Morrison
28/05/2016: Tour: Asgard Collins Barracks & Howth led by Willie Willoughby
18/06/2016: Tour: Woodstock, Jerpoint, Kilkenny Castle led by Michael Considine
23/07/2016: Tour: Collins Barracks, Kilmainham Gaol, Glasnevin led by Pauline Shortall
07/09/2016: Tour: 2 day tour to Boyne Valley led by Peter O'Connor
29/09/2016: Talk: E.Shackleton & T.Crean by Kevin Kenny
27/10/2016: Talk: Fiach Mac Hugh O'Byrne by Dr. Emmett O'Byrne – Aidan Breen Memorial Lecture
17/11/2016: Talk: The Somme by Roddy Bailey
08/12/2016: Talk: Delia Murphy Songs by Carmen Cullen
2015
15/01/2015: Talk: Shell Shocked Victims Richmond Hospital by Professor Brendan Kelly
26/02/2015: Talk: Irish Soldiers and Officers 1922-1945 by Dr. Steven O'Connor
26/03/2015: Talk: Holocaust Survivor by Tomi Reichenthal
30/04/2015: Talk: Streets of Gorey by Willie Willoughby
30/05/2015: Tour: Dunbrody and Kennedy Homestead led by Willie Willoughby
20/06/2015: Tour: Ardgillen and Malahide Castles led by Zeta Ferguson
18/07/2015: Tour: The Curragh led by Michael Reddy
15/08/2015: Tour: Wicklow Gaol, Arklow Maritime Museum led by Pauline Shortall
05/09/2015: Tour: 2 day tour to Sligo led by Peter O'Connor
17/09/2015: Talk: Gallipoli by Roddy Bailey
29/10/2015: Talk: The Asgard by Pat Murphy
26/11/2015: Talk: Medieval Farming by Dr. Margaret Murphy – Aidan Breen Memorial Lecture
10/12/2015: Talk: "With their Guns and Drums" by Brendan McQuaile
Annual Christmas Party
2014
10/01/2014: Talk: History of the GAA by Dr. Ida Milne
22/02/2014: Talk: Gorey through the Ages by Willie Willoughby
28/03/2014: Talk: John Redmond by Dermot Meleady
25/04/2014: Talk: Brian Boru by Emmett Stafford
24/05/2014: Tour: 1798 Enniscorthy led by Willie Willoughby
05/07/2014: Tour: Coollattin, Duckett's Grove led by Mattie Duggan
26/07/2014: Tour: Waterford Viking Triangle led by Philip Jones
23/08/2014: Tour: West Wicklow led by Peter O'Connor
25/09/2014: Talk: Church of Ireland and the I.C.A by Dr. Catherine O'Connor
20/10/2004: Talk: Kynoch's Ammunition Factory by Jim Rees
27/11/2014: Talk: Irish Slavery by Philip Casey – Aidan Breen Memorial Lecture
12/12/2014: Talk: "March Away my Brothers" by Brendan McQuaile
Annual Christmas Party
2013
25/01/2013: Talk: Tara Hill by Ronnie McCormack
15/02/2013: Talk: Life in the Trenches by Brian Kenny
26/04/2013: Talk: The Peace Process by Ted Barrington
25/05/2013: Tour: Gorey Workhouse led by Willie Willoughby
25/06/2013: Tour: The Hook led by Michael Dwyer
25/07/2013: Tour: Curraghmore & Portlaw led by Mattie Duggan
10/08/2013: Tour: Glendalough led by Michael Considine
27/09/2013: Talk: Murderers, Rebels and Drunkards by Brian Donovan
25/10/2013: Talk: The Houses of North Wexford by Dan Walsh
22/11/2013: Talk: Golden Ages of Ireland by Dr O'Cathain – Aidan Breen Memorial Lecture
05/12/2013: Talk: Coollattin Evictions by Jim Rees
Annual Christmas Party
2012
25/01/2012: Talk: The Wexford Lockout
17/02/2012: Talk: The Big Flu by Dr. Ida Milne
16/03/2012: Talk: Croghan Gold Rush by Peadar McArdle
16/03/2012: Talk: Co Wexford Place Names by Michael Considine
20/04/2012: Talk: The Esmondes by John Nangle
19/05/2012: Tour: Courtown led by Willie Willoughby
20/06/2012: Tour: Carrick-on-Suir led by Mattie Duggan
21/07/2012: Tour: Ballygarret led by Dan Wafer & Philomena Egan
01/09/2012: Tour: Kilanerin led by Fionntain O'Suilleabhain
08/09/2012: Talk: North Wexford Church of Ireland Families by Michael Dwyer
26/10/2012: Talk: Royal British Legion by David O' Morchoe
16/11/2012: Talk: McMurrough after the Conquest by Dr. Emmett O'Byrne
07/12/2012: Talk: An Irish Revolution by Dr. Ruan O'Donnell
14/12/2012: Talk: 1950's Gorey by Mattie Duggan
2011
04/09/2011: Talk: Geology of North Wexford by Peter O'Connor.
04/10/2011: Talk: Gorey Workhouse by Aidan Breen
02/12/2011: Talk: Rural Electrification by Mattie Duggan