Graveyard:
Prospect
Grid reference: J 8
GPS: -6.221142612/ 52.67737575
Name: John and Priscilla Middleton
Address: none
Date of death: John (22/04/1837) Priscilla (16/04/1837)
Age: John aged 60, Priscilla aged 70
Headstone stone maker: not legible
Headstone dimenions: H 227cm, W 116cm, T 12cm
Type of stone used: Limestone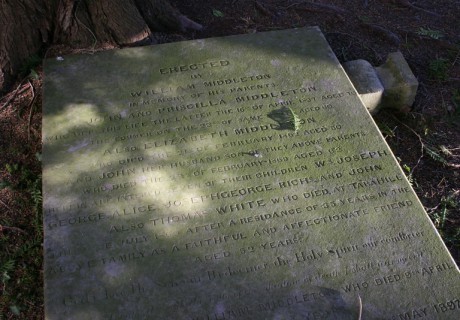 INSCRIPTION:
Erected by William Middleton in memory of his parents John and Priscilla who depd this life the latter the 16th April 1837 aged 70. The former on the 22nd of same month aged 60. Also Elizabeth Middleton who died 21st February 1802 aged 50. And John her husband son of above parents who died 22nd February 1869 aged 62. Herein are interred seven of their children, Wm, Joseph, George, Alice, Joseph George Richd and John. Also Thomas White who died at Tara Hill after a residance of 35 years in the above family as a faithful and affectionate friend. aged 52 years.
God is love,. His son our Redeemer. The Holy Spirit our comforter.
Yea, Tho I walk through the vally of the shadow of death I shall fear no evil.

The above William Middleton who died 9th April 1895 aged 84 years. His nephew Isaac Middleton died 22nd May 1897. Aged 55 years.