Graveyard:
Castletown
Grid reference: F 12
GPS: -6.18826294/ 52.72239565
Name: Denis Kavanagh
Address: Moneygarrow
Date of death: 12/05/1839
Age: 73
Headstone stone maker: none
Headstone dimenions: H 142cm, W 90cm, T 9cm
Type of stone used: Limestone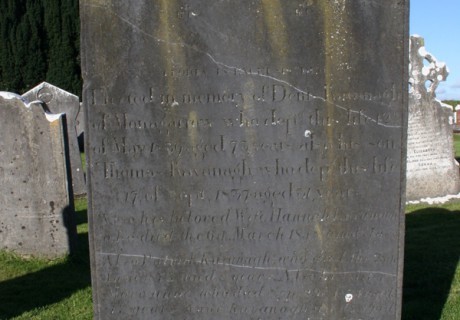 INSCRIPTION:
Gloria in excelsis Deo.
Erected in memory of Denis Kavanagh of Moneygarrow who depd. this life 12th May 1839 aged 73 years.
Also his son Thomas Kavanagh who depd. this life 17th Sept. 1837 aged 31 years.
Also his beloved wife Hannah Kavanagh who died 6th March 1858 aged 71 years.
Also Patrick Kavanagh who died the 25th June 1873 aged 8 years.
Also his sister Mary Anne who died Sept. 29th 1884 aged 17 years.
Anne Kavanagh died 7th April 1890 aged 70 yrs.
Michael died 23rd May 1890 aged 74 yrs.
Denis died 25th Feb. 1913 aged 68 yrs.
Ellen Kavanagh died 2nd April 1938.
Requiescant in pace Amen.