Graveyard:
Kilnamanagh
Grid reference: D 2
GPS: -6.21505/52.31439
Name: Agnes Adeline Earle
Address: London
Date of death: 2013
Age: 69
Headstone stone maker: none
Headstone dimenions: H 72cm, W 69cm, T 8cm
Type of stone used: Black Granite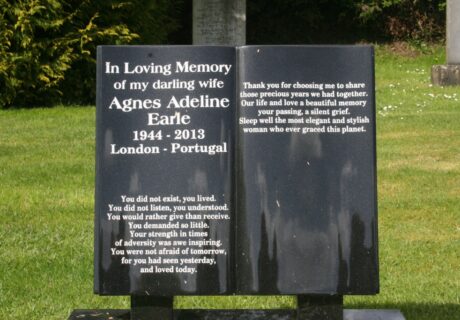 INSCRIPTION:
In loving memory of my darling wife Agnes Adeline Earle 1944-- 2013 London -- Portugal.
You did not exist, you lived.
You did not listen , you understood.
You would rather give than receive.
You demanded so little.
Your strength in times of adversity was awe inspiring.
You were not afraid of tomorrow for you had seen yesterday and loved today.

Thank you for choosing me to share
Those precious years we had together.
Our life and love a beautiful memory your passing a silent grief.
Sleep well the most elegant and stylish woman who ever graced this planet.
Que seperabit.
[ Who will seperate us ].