Graveyard:
Prospect
Grid reference: K 7
GPS: -6.221066923/ 52.67741955
Name: John Stanford
Address: Kilbride
Date of death: 03/10/1806
Age: 20
Headstone stone maker: none
Headstone dimenions: H 198cm, W 99cm, T 10cm
Type of stone used: Limestone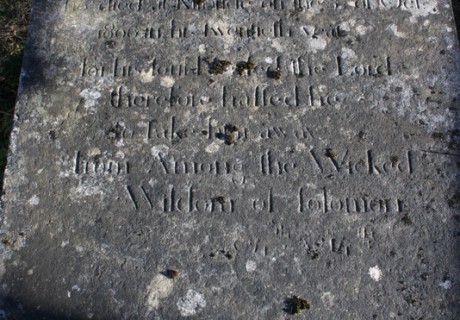 INSCRIPTION:
Here lieth the body of John Stanford, Lieut in his Majesty's 8th Regiment of Foot who died at Kilbride on the 3rd Oct 1806 in his twentieth year.

For his Soul pleased the Lord therefore hasted to take him away from among the wicked. Wisdom of Solomon. .............14th
Also here lies the mortal remains of Joseph Infant Child of Rev. Richd and Harriet Chambers who came into this world Sept 26th and left Oct 1st 1831.

Jesus said suffer little children to come unto me.