Graveyard:
Castletown
Grid reference: G 8
GPS: -6.18845788/ 52.72254667
Name: Alicia Darlington
Address: Kilabegs
Date of death: 29/06/1845
Age: 26
Headstone stone maker: none
Headstone dimenions: H 230cm, W 114cm, T 8cm
Type of stone used: Limestone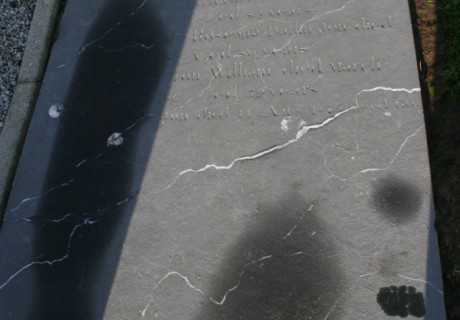 INSCRIPTION:
Gloria in excelsis Deo.
Erected by Nathaniel Darlington Kilabegs in memory of his beloved daughter Alicia Darlington alias Lawless who depd. this life June 29th 1845 aged 26 years.
Also the above Nathaniel Darlington died Aug. 27th 1850 aged 82 years.
Also his wife Roseanna Darlington died Febr. 21st 186? aged 80 years.
Also their son William died March 3rd 186? aged 32 ? years.
Francis Darlington died 11th Aug. 1855? aged 60.
Requiescant in pace .