Graveyard:
Castletown
Grid reference: C 7
GPS: -6.1886949/ 52.72242185
Name: Joseph Byrne
Address: Inch
Date of death: 02/1867
Age: 3
Headstone stone maker: J.New Arklow.
Headstone dimenions: H 185cm, W 89cm, T 10cm
Type of stone used: Limestone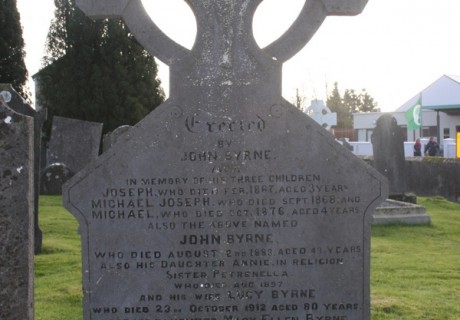 INSCRIPTION:
Erected by John Byrne Inch in memory of his children, Joseph who died Feb. 1867 aged 3 years.
Michael Joseph who died Sept. 1868 and Michael who died Oct. 1876 aged 4 years.
Also the above named John Byrne who died Aug.2nd 1883 aged 43 years.
Also his daughter Annie in religion sister Petrenello who died Aug. 1897 and his wife Lucy Byrne who died 23rd October 1912 aged 80 years.
Also his daughter Mary Ellen Byrne died 27th July 1918 aged 48 years.
Also Michael B. Byrne died in New York 7th March 1924 aged 27 years.
John Stanislaus Byrne died in New York 3rd Aug. 1933 aged 38 years.
Also John Byrne died 8th March 1936 aged 67 yrs.
Robert J. Byrne died in Australia 7th March 1965.
Lucy Mary Byrne died 7th Aug. 1984 aged 86 yrs. Sr. Mechtilde.
Mary Byrne [ Loreto India ] died 30th Jan. 1985 aged 82 yrs.