Graveyard:
Inch
Grid reference: F 5
GPS: -6.236216911/ 52.74039221
Name: Gibson Black
Address: Inch
Date of death: 18/07/1887
Age: 86
Headstone stone maker: none
Headstone dimenions: H 170cm, W 80cm, T 15cm
Type of stone used: White marble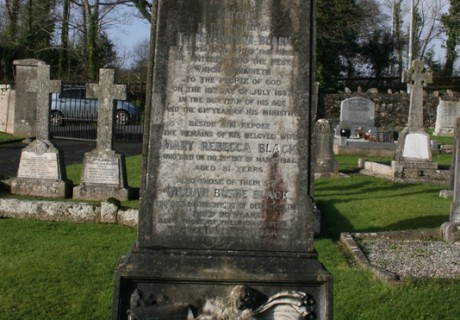 INSCRIPTION:
With me in paradise.
Sacred to the memory of the Revd. Gibson Black for 38 years rector of this parish he entered into the rest which remaineth to the people of God on the 18th day of July 1887 in the 86th year of his age and the 61st year of his ministry.
Beside him repose the remains of his wife Mary Rebecca Black who died on the 21st day of March 1886 aged 81 years.
Also their son William Bush Black who died on the 21st day of December 1861 aged 20 years.
Also those of their daughter Victoria Rhoda Black who died on the 30th day of September 1909.
Which hope we have an anchor of the soul.
Heb. V1 19
Left hand side.
Sarah A.D.King daughter of Rev. Black died 30th October 1906 .