Graveyard:
Inch
Grid reference: N 5
GPS: -6.235640729 52.74032117
Name: Matthew Beauman
Address: Hyde Park
Date of death: 25/12/1872
Age: 67
Headstone stone maker: none
Headstone dimenions: H 298cm, W 67cm, T 67cm
Type of stone used: White marble obelisk and Granite mausoleum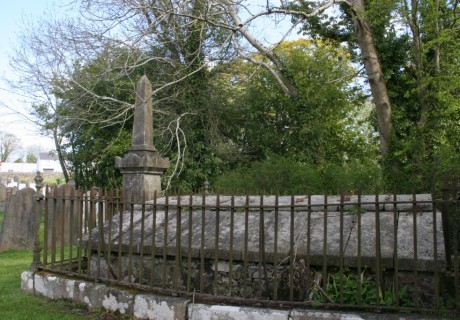 INSCRIPTION:
Front: Erected in memory of Matthew Forde Beauman late of Hyde Park who departed to be with Christ 25th Dec. 1872 aged 67 years.
Also of his daughters Anni Margaret Beauman who died September 6th 1918 .
Jane Emily Beauman died July 3rd 1920 .
Emily Beauman died 9th July 1940 aged 87 years.
The memory of the just is blessed ,Pro X. 7.

LHS: In memory of Isabella Beauman daughter of Matthew Forde Beauman who departed this life 7th July 1871 aged 23 years .
Also of her sister Mary Beauman who died 2nd June 1893.
Them also which sleep in Jesus will God bring with him. Thess 1V. 14.

RHS: In memory of John Christopher Beauman only son of Matthew Forde Beauman who departed this life 8th April 1869 aged 23 years.

Back: In memory of Harriet Beauman who died 11 Sept. 1880.
Remaineth therefore a rest to the people of God. Hebrew IV . 4.
Also Elizabeth Quin daughter of Matthew Forde Beauman who died 7 Sept. 1888.
With Christ which is far better.