Graveyard:
Inch
Grid reference: L 5
GPS: -6.235784869 52.74033886
Name: James Black
Address: Cronecribben
Date of death: 12/01/1860
Age: 63
Headstone stone maker: none
Headstone dimenions: H 150cm, W 96cm, T 10cm
Type of stone used: Limestone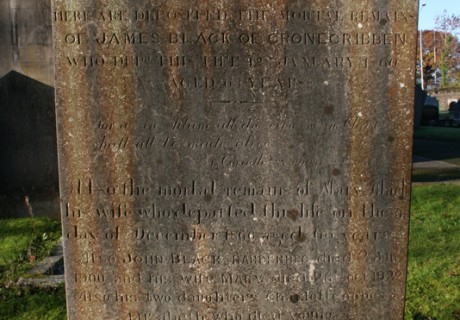 INSCRIPTION:
Here are deposited the mortal remains of James Black Cronecribben who depd. this life 12th January 1860 aged 63 years.
For as in Adam all die even so in Christ shall all be made alive.
I Corint.XV Chap. 22 Verse.
Also the mortal remains of Mary Black his wife departed this life on the 4th day of December 1866 aged 63 years.
Also John Black Raheenbeg died 2nd Jan. 1900 and his wife Mary died 26th Oct. 1922.
Also his two daughters Charlotte Anne & Elizabeth who died young.