Graveyard:
Limbrick/Kilanerin
Grid reference: C12
GPS: -6.293211907/ 52.7335068
Name: John Stafford
Address: Clonsilla
Date of death: 29-03-1819
Age: 74
Headstone stone maker: none
Headstone dimenions: H 230cm, W 117cm, T 10cm
Type of stone used: Limestone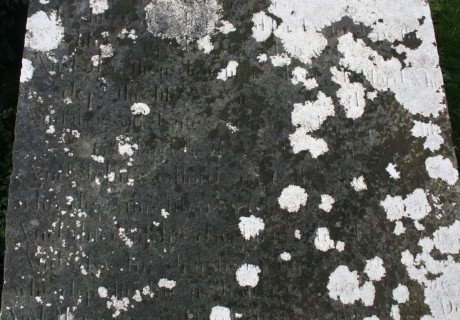 INSCRIPTION:
Here lieth the remains of John Stafford late of Clonsilla who dep. this life 29th March 1819 aged 74 years.
Also his wife Alicia ? Stafford who dep. this life 18th April 18?3 aged 76 years and also their daughter Alicia Stafford who dep. this life 15th Aug 18?? aged 7 yrs. and their son James Staford who dep. this life 17th March 1849? aged ? and John Staffoed son of the above James who dep. this life 12th Oct 1846 aged 15 years and three of his daughters who died young and also his daughter Anne Byrne who dep. this life 11 June 1865? aged 30? years and Margaret Stafford who dep. this life 25? Dec. 1868 aged 29 years. Ellen Stafford wife to the above James she died 19th Oct 1878 aged 76 years . Ellen Josephine Stafford died 5th May 1903 aged 30 years. Patrick Stafford Clonsilla died 24th January 1906 aged 75 years. His son James J. Stafford died 15th Feb. 1923 aged 52.

Requiescant in pace amen.