Graveyard:
Limbrick/Kilanerin
Grid reference: G 12
GPS: -6.292941878 52.73356376
Name: Sir John Esmonde
Address: Ballynestragh
Date of death: 09-09-1876
Age: 48
Headstone stone maker: none
Headstone dimenions: H 270cm, W 66cm, T 48cm
Type of stone used: Limestone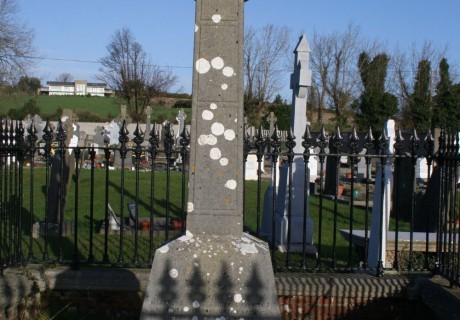 INSCRIPTION:
Of your charity pray for the soul of Col. Sir John Esmonde Baronet JP., DL. who represented the County of Waterford in the imperial Parliament for a quarter of a century . He was born at Kilmanock Wexford on the 11th May 1828 and died at Ballynestragh on the 9th September 1876 . On whose soul of your charity say a pater noster and an ave.
Of your charity pray for the soul of Louisa Grattan born 1835 died 1880, wife of Sir John Esmonde 10th Baronet who erected this cross and grandaughter of Henry Grattan . Also Lt Col. Laurence Grattan Esmonde 13th Bart. born 3rd Nov. 1863 died 1st Feb. 1943, Barrister at law ,Kings inn, Tyneside Irish[5th] Northumberland Fus. Formerly Dublin Fusilers and Waterford RCA.
Sacred heart of Jesus have mercy on the soul of Alice Barbara Donovan born Lady Esmonde. Born at Tralee 27th Aug. 1862 died at Ballynestragh 3rd Dec.1922.
Senator Sir Thomas Henry Grattan Esmonde 11th Baronet,Privy Chamberlain to Pope Leo X111, PiusX, Benedict XV and Pius X1 Knight Grand Cross of the cross ? of the Holy Sepulcher born at Pau 21st Sept. 1862 died in Dublin 14th Sept. 1935.
Sir Osmond Thomas Grattan Esmonde TD 12th Baronet born at Ballynestragh 4th April 1896 died Dublin 22nd July 1938.
[For further reference to this family see Kilanerin R.C. exterior].