Graveyard:
Kilcavan
Grid reference: L 4
GPS: -6.216826817/ 52.70711344
Name: Risteard O' Briain
Address: Baile Muine
Date of death: 23/10/1950
Age: 83
Headstone stone maker: none
Headstone dimenions: H 192cm, W 52cm, T 20cm
Type of stone used: Limestone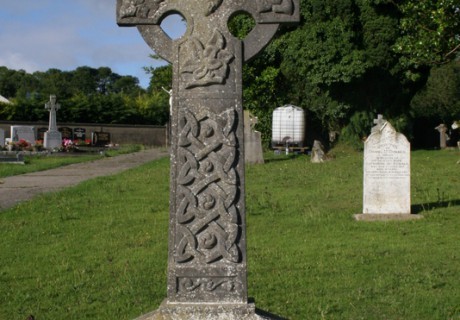 INSCRIPTION:
A Iosa dean throcaire ar anam Risteard O' Briain, Baile Muine a deag 30 M. Fomair 1950in aois 83 bl agus ar a inion Anastasia a deag 11 M. Fomair 1929 in aois 16 bl. Agus ar a bhean ceile, Maire a deag 23 Aibrean 1955 in aois 66 bl. R.I.P.

TRANSLATION/AISTRIUCHAIN.
Jesus have mercy on the soul of Richard O'Brien, Ballymoney who died 30th October 1950 aged 83 years and his daughter Anastasia who died 11th October 1929 aged 16 years. And his wife, Mary who died on the 23rd April 1955 aged 66 years.
R.I.P.