Graveyard:
Inch
Grid reference: C 3
GPS: -6.236404035 52.74050689
Name: William Wentworth Murphy
Address: Avonmore
Date of death: 3/04/1945
Age: 77
Headstone stone maker: none
Headstone dimenions: H 93cm, W 54cm, T 19cm
Type of stone used: Granite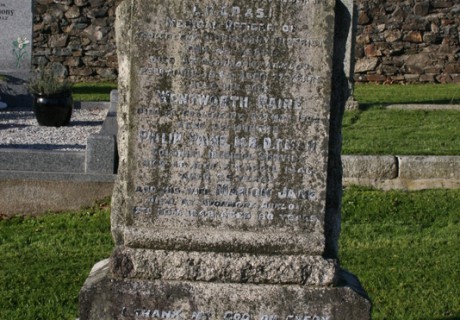 INSCRIPTION:
In loving memory of William Wentworth Murphy L.R.C.P.S., S.I. Medical Officer of Coolgreany Dispensary District for 42 years died at Avomore Arklow 3rd April 1945 aged 77 years.
Also his sons Wentworth Paine died at Coolgreany 3rd May 1902 aged 3.5 months .
Philip Pain M.B., D.T.M.T.H Medical services died at Aden 7th April 1946 aged 35 years and his wife Marian Jane died at Avonmore Arklow 13th Nov. 1948 aged 80 years.
I thank God on every remembrance of them.
Also their elder daughter Georgina Paine of Coolbeg Arklow who died 9th Aug. 1973 aged 73 yrs.