Graveyard:
Camolin Church of Ireland
Grid reference: C 10
GPS: -6.425933755 /52.61643788
Name: Family Buttle
Address: none
Date of death: none
Age: none
Headstone stone maker: Kavanagh's
Headstone dimenions: H 122cm, W 82cm, T 8cm
Type of stone used: Limestone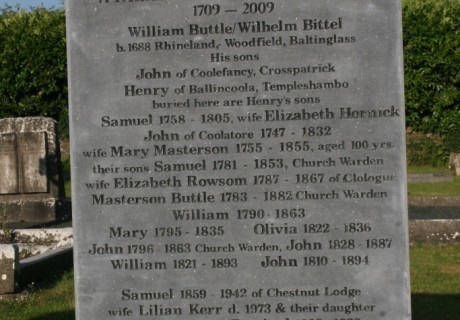 INSCRIPTION:
BUTTLE.
A Palatine family in Ireland 1709--2009.
William Buttle / Wilhelm Bittel b. 1688 Rhineland, Woodfield, Baltinglass.
His sons John of Coolafancy , Crosspatrick. Henry of Ballinacoola, Templeshanbo.
Buried here are Henry's sons Samuel 1758--1805, wife Elizabeth Hornick.
John of Coolatore 1747--1832 , wife Mary Masterson 1755--1855 aged 100 yrs.
Their sons Samuel 1781-- 1853 church warden, wife Elizabeth Rowsom 1787-- 1867 of Clologue.
Masterson Buttle 1783--1882 church warden.
William 1790--1863, Mary 1795--1835, Olivia 1822--1836, John 1796--1863 church warden.
John 1828---1887, William 1821---1893.
John 1810--1894.
Samuel 1859--1942 of Chestnut lodge, wife Lilian Kerr d. 1973 & their daughter Anne Frances Percival 1925---1939 .
At Toome Mary 1794--1883. Robert 1798--1884.
In heavenly love abiding.
God is love.