Graveyard:
Monaseed
Grid reference: F 16
GPS: -6.399217916/ 52.71033071
Name: James Carton
Address: Coolthawn
Date of death: 25/04/1942
Age: 89
Headstone stone maker: none
Headstone dimenions: H 215cm, W 89cm, T 9cm
Type of stone used: White Marble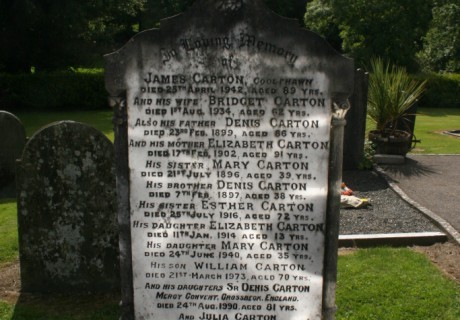 INSCRIPTION:
In loving memory of James Carton Coolthawn died 25th April 1942 aged 89 yrs. and his wife Bridget Carton died 1st Aug. 1934 aged 62 yrs.
Also his father Denis Carton died 23rd Feb. 1899 aged 86 yrs. and his mother Elizabeth Carton died 17th Feb. 1902 aged 91 yrs.
His sister Mary Carton died 21st July 1896 aged 39 yrs.
His brother Denis Carton died 7th Feb. 1897 aged 38 yrs.
His sister Esther Carton died 25th July 1916 aged 72 yrs.
His daughter Elizabeth Carton died 11th Jan 1914 aged 13 yrs.
His daughter Mary Carton died 24th June 1940 aged 35 yrs.
His son William Carton died 21st March 1973 aged 70 yrs. and his daughters Sr. Denis Carton Mercy Convent, Crossbeck, England died 24th Aug. 1990 aged 81 yrs and Julia Carton died 10th July 1993 aged 83 yrs.
R I P.